Unity Sand Ceremonies & Alternatives
Unity Sand Ceremonies & Alternatives
Find unity ceremony accessories for a unique way to say "I do".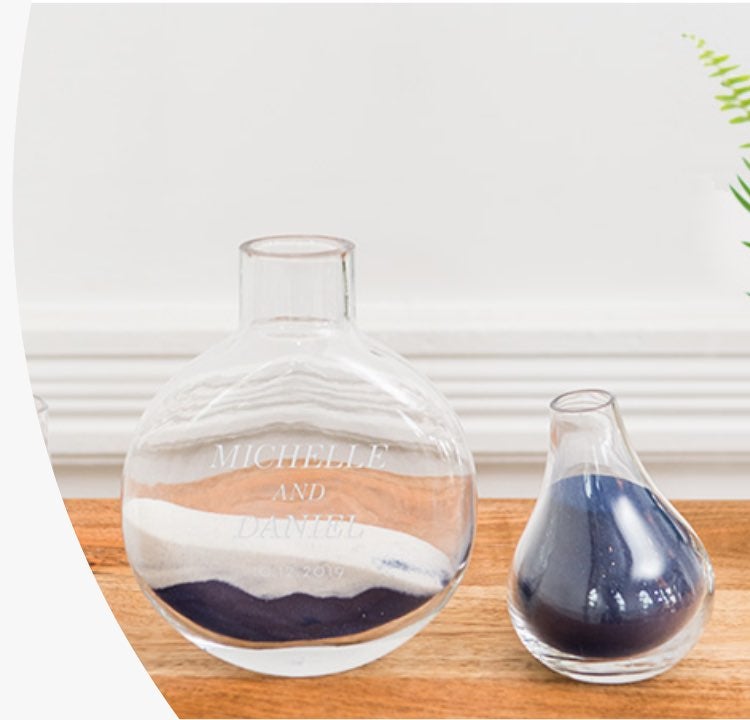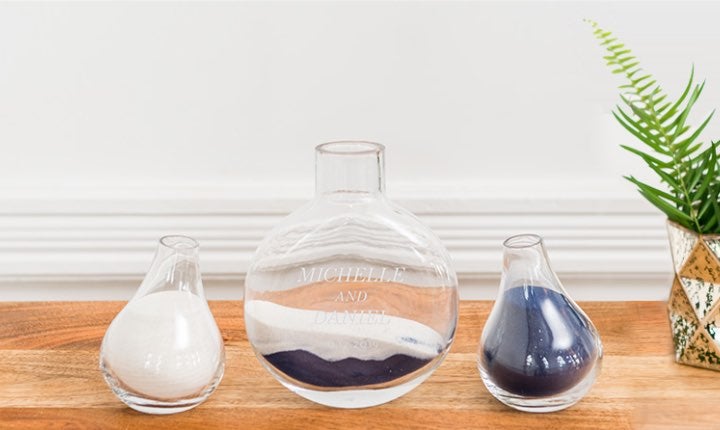 Unity Sand Ceremonies & Alternatives
Add a unique touch to your wedding that really defines your love and dedication to one another with a unity sand ceremony. This symbolic gesture allows the couple to each pour a different color of sand to a glass jar, merging the two colors and creating a keepsake of your wedding that you can cherish and display in your home forever. This meaningful jar can also be added to later in life, such as after the birth of a child or the addition of a pet. If you want to add another element to your wedding's ceremony that symbolizes your love for one another and your joining together as one, a unity sand ceremony is a beautiful gesture that your guests will love to watch.Weddingstar carries many different types of unity sand ceremony kits that make it easy and beautiful to hold a sand ceremony during your wedding ceremony. These kits come with one ornate, engraved central jar that will ultimately hold the sand, as well as the two individual jars that the bride and groom will pour their sand out of. Some kits also come with a third bottle to allow for another meaningful person to pour their sand into the mix. Weddingstar also offers the decorative colored sand in your choice of colors to coordinate with your wedding's theme.Weddingstar offers sand ceremony kits that are as simple or as intricate as you prefer. Our sleek, modern kits feature elongated bottles and matching clear glass vases for pouring, while more ornate sets feature heart-shaped central bottles with elevated metal stands and decorative side vases. All of these kits can be customized with your initials or names etched on the central vase, as well as a monogram or a simple design.
Personalized Unity Candles for Weddings
Add a personalized twist to the cherished unity candle tradition by choosing your own custom unity candle from Weddingstar. These personalized unity candles for weddings will add a loving detail to the special unity candle ceremony - there won't be a dry eye in the house when you light this lovely candle to signify the joining of your two families and the beginning of your life together as husband and wife. Your unity candle is intended to cherish for years to come: It is traditional to relight your unity candle on each anniversary.Our gorgeous selection of custom unity candles for weddings can be personalized to include names, dates and more - add names of children, parents and grandparents. From traditional to more modern designs, you will find the unity candle that reflects your personality, style and wedding motif. You will find a huge variety of styles - love birds, cherry blossoms, family oak trees and butterflies.Our decorated pillar unity candles are handcrafted and designed just for you - add timeless elegance to your wedding ceremony. Created with lovely fabrics, textures and colors such as lace, satin and crystals, these unity candles and unity candle holders will add so much to your ceremony.Already have a DIY project in mind for your unity candle? No problem! We have plain pillar candles in different sizes that can be easily crafted by you to make your perfectly personalized pillar candle. Check out our pillar and taper candle holders, as well. For the romantic-at-heart, consider our Suspended Heart Taper Unity Candle Holders. We also have shabby chic designs and vintage styles, like our Vintage-Inspired Iron Pillar Unity Candle Holder and our Vintage Inspired Resin Taper Unity Candle Holder for the wedding ceremony. Your unity candle ceremony will sparkle with our crystal unity candle holder options, as well.The unity candle tradition is an important part of your wedding ceremony - find the custom unity candle set that speaks to you at Weddingstar!