Hand Fan Wedding Favours
Find unique and personalised handheld fans for ceremony or reception.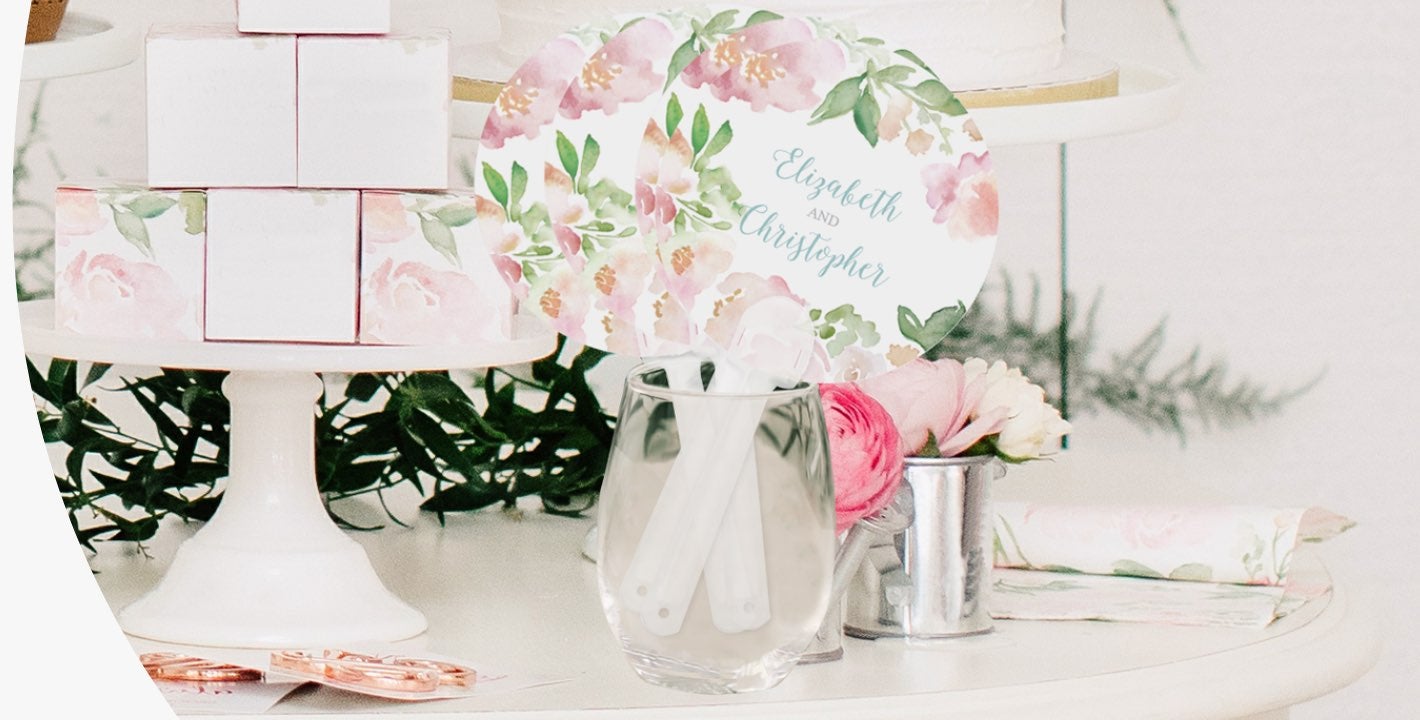 Hand Fan Wedding Favours - Fan Favours
For a pretty wedding prop or for a practical favor, Weddingstar's selection of personalised hand fans and hand fan wedding favours will provide an easy, breezy way to commemorate your wedding ceremony with graceful style. Choose from a wide variety of fan favours - from customised, printed personalised paper fans and lovely silk options, to beautiful Battenburg lace folding fans. You are certain to find the hand fan that you are looking for in our hand fan wedding favor shop.
For a romantically lacy look, select our Battenburg lace folding fan favor. Delicate lace is hand woven and attached to a wooden folding frame that can be opened and closed as needed. Use in a wedding ceremony, during wedding photos or at any other venue where a slight breeze is needed. Available in antique colour or white with a silky decorative tassel, these decorative hand fans will best match a romantic-at-heart's personality, dress and style.
Opt for silk folding hand fan favours for your wedding crew, guests and more. These beautifully constructed silk folding fans are available in several different styles and designs - we are confident that you will find one to match your wedding's theme and colour! These silk folding fan favours look amazing at place settings - they are ideal as a budget-friendly favor that your guests will be delighted to use again and again.
Our ever-popular personalised printed paper fans are fully customizable and will add a pretty, custom touch to your wedding, reception or other celebration. These pretty printed fans are available in a huge variety of styles - make them available to all of your guests by placing them in baskets at your wedding ceremony or add them to each of your tables at a wedding reception. Your guests will love this keepsake that they can take home and reuse. Choose the colour, design and shape that is just right for your festivities. From traditional to modern, there is a personalised hand fan favor for every preference at Weddingstar.
Unique Wedding Favor Containers for Any Theme
Prefer something that stands out? You'll love our selection of unique favor boxes designed to complement your theme or bring something new to the table. We have an excellent collection of miniature tin favor containers in shapes like watering cans, metal pails, pitchers and mailboxes to give your antique- or rustic-themed affair an extra layer of charm. You'll also find unconventional styles like Chinese takeout containers and paper boat favor boxes. Use your Chinese wedding favor box to send guests home with fortune cookies and complement the table settings at your nautical-themed affair with sweet miniature boats.
Weddingstar also has a massive variety of simple and classic favor boxes, including our solid-coloured classic folding favor boxes that come in a wide range of colours to suit your specific colour scheme. Each one comes with a matching lid and features a classic square style so that you can beautifully display mints, Jordan almonds, homemade candies, seed packets and much more. You can even add a personalized charm to your favour display with Weddingstar's personalized drawer-style favor boxes that come in tons of elegant, stylish options.